Debbie Carlson
Debbie Carlson is a mixed media installation artist, who lives and works in Orange County. She is a first-generation Taiwanese immigrant, who has been living in the United States since 1988. Carlson received her MFA from California State University Long Beach in 2014, and is currently an adjunct studio art professor at Pasadena City College.
Carlson collects castaway materials and found objects and re-defines their character through her work. Her artistic sensibility is based on the notion of transformation, interconnection, and adaption. "Handmade" is essential to Carlson. Through the simple yet laborious process of binding, pulling, and stitching, she reveals the unforeseen interconnectivity between common materials and objects. Her work is adaptable and evokes infinite possibilities of association and interpretation for the viewer.
Statement:
Debbie Carlson's work expresses and responds to the human experience. It also unveils the invisible and reshapes our perceptions about the environment and reality. The tactile nature of making art allows her to meditate and reflect on her daily encounters. Through the repetition of tying, binding, pulling, stitching, and assembling, new connections start to unfold and the work evolves as a biomorphic form that inhabits space.
The materials that Carlson uses in her work speak to her ideas about community and harmony as well as my desire to make change and to break conventions. Everyday materials and objects suggest our desires, beliefs, and relationships. They relay memories about our lives but they are also associated with the here and now. Melding eclectic objects and materials together is a means for Carlson to explore the history of the things she possesses and to examine the interconnectivities between the materials around her.
In additional, Carlson's material choices also allows her to challenge social norms and explore broader possibilities. By carefully placing various scales of familiar objects in juxtaposition with the unfamiliar, an uncanny sensation is provoked. The objects used in a work do not generate anything else rather than the relations among the objects themselves in a specific arrangement. Fragments and the uneventful become a cohesive and meaningful whole. Carlson's work illustrates the ephemeral and transient nature of human existence. It also demonstrates her evaluation of conventional choices without compromising the integrity of individual ideas in a reality that is constantly shifting and reshaping itself. The fact that this experience is transient and will only take place in a specific setting gives my work a certain dignity.
Exhibition Dates:
Saturday, October 21, 2017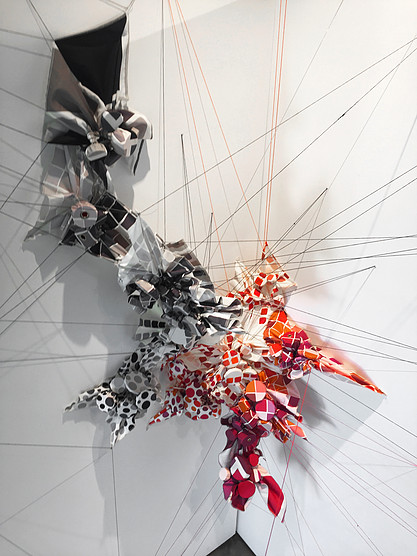 ---
Produced by FLOOD in partnership with: